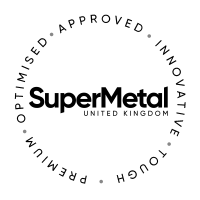 We produce premium wheel designs, optimised to be both high in load capacity and low in mass.  SuperMetal wheels are ideal quality and style for original replacement and approved by the toughest testing body in Europe.

awsuperadmin
2023-10-16T10:48:26+01:00
20"
MATT BLACK / ULTRA MATT BRONZE / ULTRA MATT GREY / REVOLUTION RED
What puts the Super in our Metal? REAL CERTIFICATION
Rigorous and unparalleled testing and certification on every wheel design. Download each wheel approval certificate on the wheel detail page. OPTIMISED BY ENGINEERING
Our own engineering process dedicated to weight saving efficiencies and load capacity maximisation. Behind each spoke is a masterpiece of optimisation, each groove generating ultimate weight-saving and the perfect torsion support. ADVANCING TECHNOLOGIES
Bi-forming is our latest in production methods, each wheel cast as a single piece and then individually crafted by technology. CNC machines laser measure and remove material to reveal the final design of each wheel. ULTIMATE CLEAR COATS
We continually develop our clear coats to; improve the barrier between the wheel and the outside elements and maximise the aesthetic effect of the clear coat finish.  Our latest V4.0 clear coat is a 'dry lacquer formula' which is applied by charging the wheel and attracting the lacquer particles to the painted or polished surface, this process ensures an even and consistent solid coating on every edge and face of even the more complex of our designs.